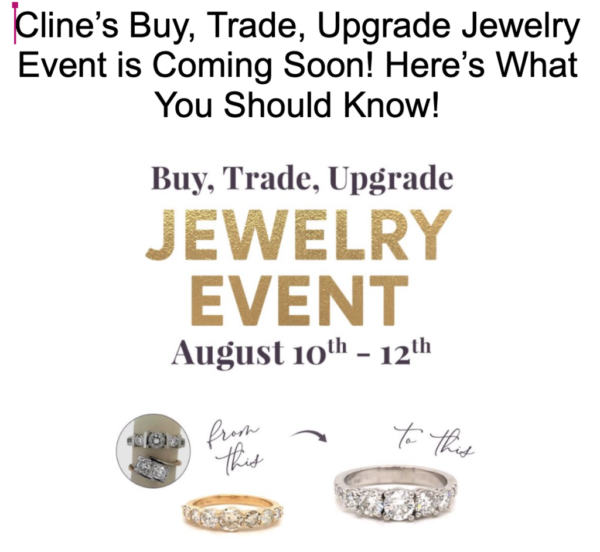 Cline Jewelers will buy your old gold and fine jewelry, and help you upgrade your current jewelry pieces
For over 40 years, Cline Jewelers has been helping the people of greater Edmonds continue to look their very best with a wide selection of bridal and engagement rings, designer fashion jewelry, precious gemstone and birthstone jewelry, custom jewelry designs, and a myriad of premier jewelry services.
Andy Cline knows best that although jewelry does last a lifetime, it may not grab at your heartstrings today like it did when you first purchased it, received it, or initially had it passed down to you.
If you're feeling like your current jewelry collection is a bit too large, filled with those unworn or unloved items, Andy and his team at Cline Jewelers are here to help you trade in those older jewelry items for top value in return, allowing you to easily upgrade into a new Cline jewelry design that is sure to sparkle!
We met up with Andy and his team at Cline Jewelers in downtown Edmonds to learn a bit more about their upcoming "Buy, Trade, Upgrade Jewelry Event" set for Aug. 10-12, and pursue their incredible selection of premier jewelry designs.
Buy:
Don't let your old, unloved or unworn jewelry collect dust… turn it into cash!" said Andy Cline.
"We are always amazed at what comes through the front door. The market value on diamonds, gemstones, gold and other precious metals is rising, so right now is a great time to sell your old or unwanted jewelry."
As we checked out their charming downtown storefront, Andy gave us some details as to what Cline Jewelers will buy on trade. Far beyond diamond jewelry, below is a quick list of the jewelry items Cline buys on trade and what he
…
Read the rest
Read more