Avoiding the clichés that it is easy to turn to as a designer when interpreting nature, De Beers has unveiled the first chapter of its new Metamorphosis high jewellery collection, which is inspired by the passing of the seasons. Rather than focusing on a single season for each jewel, spring, summer, autumn and winter converge in each of the nine unique pieces, which are collectively titled Prelude. Exploring nature's ability to constantly transform with the passage of time, the four seasons are represented not as symbols that are associated with them but by the combining of white, yellow and rose gold, different diamond setting techniques, intricate goldwork and the stones themselves, a mix of white and Fancy coloured diamonds.
De Beers' stylised vision of the seasons is clearest in a magnificent, transformable high jewellery necklace, which features four distinct strands of diamonds. The first, wintry strand is snow-set with diamonds in white gold, while the second showcases star-set yellow diamonds, suggesting the welcome shoots of spring. A twisted rope of yellow gold evokes ripples in the summer sand, with the fourth strand set with brown diamonds in triangles of rose gold, mimicking autumn's rich carpet of leaves. 
In this high jewellery necklace, and four other pieces in the collection, the theme of metamorphosis is central to their identity. Each incorporates an element of transformability, with the strands on the necklace strung between removable clasps, converting it from a longer-length sautoir to a choker. Click to see the three versions on a model.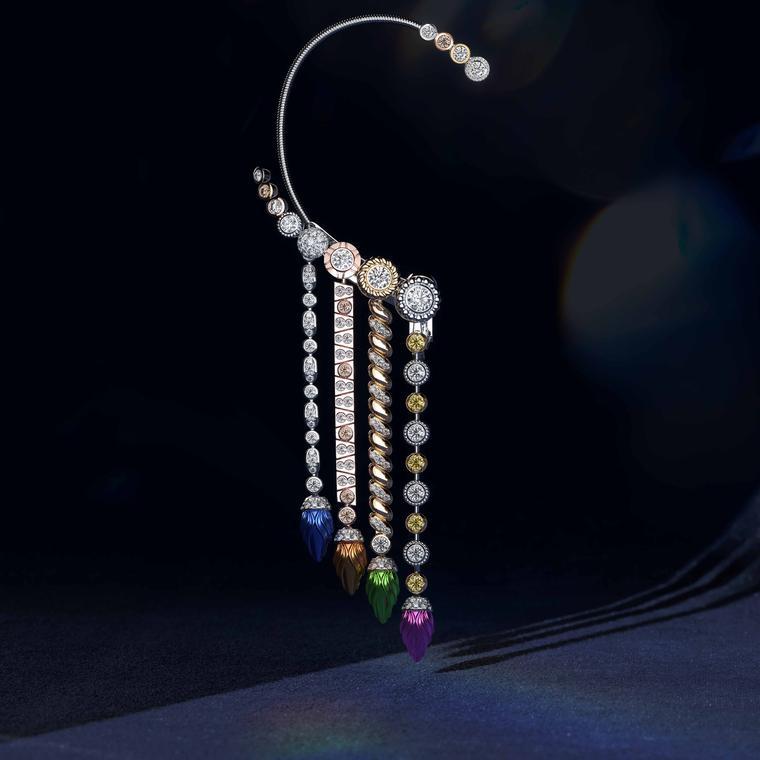 …
Read the rest
Read more