Avoiding the clichés that it is easy to turn to as a designer when interpreting nature, De Beers has unveiled the first chapter of its new Metamorphosis high jewellery collection, which is inspired by the passing of the seasons. Rather than focusing on a single season for each jewel, spring, summer, autumn and winter converge in each of the nine unique pieces, which are collectively titled Prelude. Exploring nature's ability to constantly transform with the passage of time, the four seasons are represented not as symbols that are associated with them but by the combining of white, yellow and rose gold, different diamond setting techniques, intricate goldwork and the stones themselves, a mix of white and Fancy coloured diamonds.
De Beers' stylised vision of the seasons is clearest in a magnificent, transformable high jewellery necklace, which features four distinct strands of diamonds. The first, wintry strand is snow-set with diamonds in white gold, while the second showcases star-set yellow diamonds, suggesting the welcome shoots of spring. A twisted rope of yellow gold evokes ripples in the summer sand, with the fourth strand set with brown diamonds in triangles of rose gold, mimicking autumn's rich carpet of leaves. 
In this high jewellery necklace, and four other pieces in the collection, the theme of metamorphosis is central to their identity. Each incorporates an element of transformability, with the strands on the necklace strung between removable clasps, converting it from a longer-length sautoir to a choker. Click to see the three versions on a model.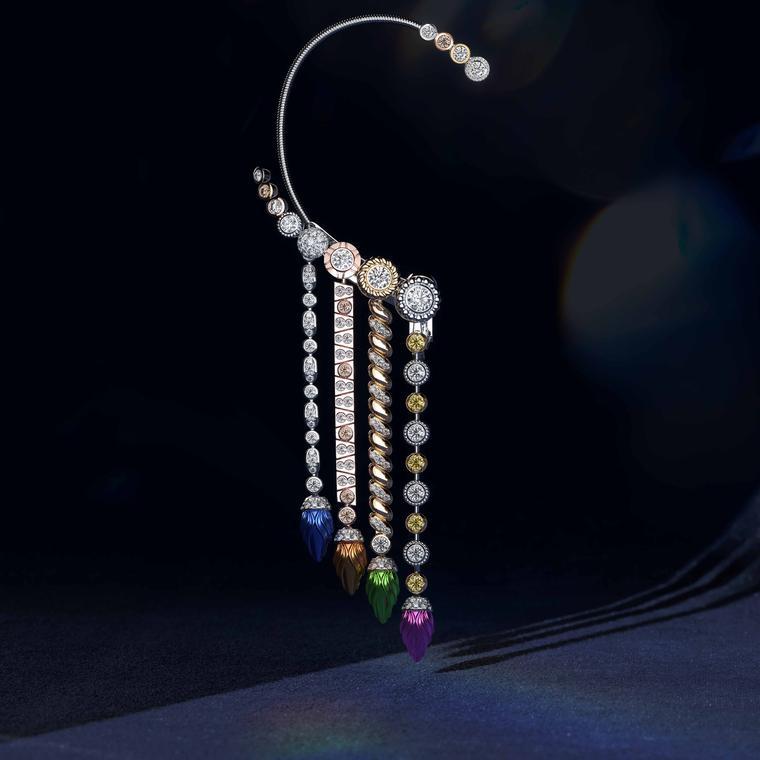 The stand-out piece in the collection is a contemporary ear cuff that introduces flashes of colour into a palette of warm golds and crisp whites. Suspended beneath the cuff, the four strands of diamonds are tipped with chrysalises crafted from titanium in bright shades of blue, brown, green and pink, which can be removed and worn on a charm bracelet. In this piece, you really get a sense of De Beers' message of transformation, that "change is the only constant".
Where there are statement diamonds, they are fabulous – this is De Beers, after all – and the goldwork is superb, with antique-inspired techniques, including fil couteau (knife-edge) and perlage (gold beading), adding texture and visual interest to the diamond settings. These are complex, technically ambitious pieces that are evidence of De Beers' own evolution in the high jewellery space, with the brand striving to show that it is as much a leader in innovation and craftsmanship as it is in the diamond arena.
In the world of high jewellery design, nature is a somewhat predictable muse, but there is nothing predictable about De Beers' Metamorphosis creations, with part two of the collection launching this summer. I look forward to seeing what clever twists on this time-honoured subject are coming next.  



Some of the Metamorphosis jewels are convertible, tying into the theme of transformation. This high jewellery ring features a removable ring jacket, revealing a 3.06 carat D-Flawless diamond solitaire.  Metamorphosis by De Beers Chapter One January 2023

This Metamorphosis cocktail ring by De Beers channels the four seasons in the vibrant yellow diamonds peeking through a carpet of white stones, twisted rope of yellow gold, brown diamonds set in rose gold and a border of snow-set diamonds.  Metamorphosis by De Beers Chapter One January 2023




De Beers' desire to be a leader in innovation and craftsmanship is clear to see in the Metamorphosis high jewellery bracelet, which features superb, technically complex goldwork. Metamorphosis by De Beers Chapter One January 2023




The back of the long sautoir is detachable and converts into a short necklace with one strand of diamonds. Metamorphosis by De Beers Chapter One January 2023




The transformable Prelude necklace converts into a long sautoir when the single necklace joins the four distinct strands of diamonds. Metamorphosis by De Beers Chapter One January 2023. 




The stand-out piece in De Beers' Metamorphosis collection is a high jewellery ear cuff featuring four distinct strands of diamonds, tipped with colourful titanium chrysalises that can be removed and worn on a charm bracelet.  Metamorphosis by De Beers Chapter One January 2023




The four seasons are interpreted in four distinct strands of diamonds in De Beers' transformable Metamorphosis high jewellery choker, which converts into a longer sautoir. Metamorphosis by De Beers Chapter One January 2023

De Beers' new Metamorphosis high jewellery collection presents four seasons in a single jewel.  Metamorphosis by De Beers Chapter One January 2023
Related Posts