The biggest question (the all-important 'Will you marry me?') is necessarily preceded by many smaller questions because, if you're thinking of proposing to your partner, or want to drop some hints if they'll be doing the proposing, you need to find the perfect engagement ring. A ring that encapsulates someone's style, while at the same time reflecting how well you know them, and how much you love them. What style should the engagement ring? What cut and carat of diamond, if a diamond at all? What colour metal, what ring size? And what about alternative engagement rings, and bespoke rings?
So many questions; so many possibilities. Luckily, the brands designing today's most covetable engagement rings know their stuff, with centuries of experience helping happy couples seal the deal between them. They understand; it's so much more than a ring.
For Valerie Messika, solitaires and wedding bands are "loaded with meaning and modernity, symbolising forever lasting love". For the Graff team, engagement rings symbolise the "love story between a jewel and its wearer". Chupi Sweetman finds it magical when her jewellery becomes part of one of the most important, exciting and love-filled days of people's lives and Kiki McDonough is still, after 35 years, amazed and inspired by how varied people's ideas can be. Whatever your style and preferences, read on for our guide to choosing the perfect engagement ring.
How to choose the perfect engagement ring style
There are so many options it can be overwhelming but, when it comes to choosing the perfect engagement ring for your partner, the answer is often right in front of you. Chupi Sweetman, who founded Chupi in 2011, asks you to remember, from the start of your search, that "money doesn't make magic."
"It's easy to get caught up in old traditions when choosing an engagement ring, but it's the love that goes into it that really counts. When thinking about what ring you should choose, think about your partner's style, what pieces they already own and the metal they usually wear. Would they love a statement, unique stone or something more pared-back and traditional? When in doubt – ask for help!" Like Chupi, many jewellers have in-house diamond specialists offering one-to-one consultations to take the uncertainty out of what can be, Chupi concedes, an "extremely daunting" process. Come prepared with images of pieces she already owns and (importantly) wears and let the experts turn the process into something exciting and enjoyable.
How to choose the best diamond
Boodles has been looking after happy couples for more than – wait for it – two centuries "and yet it is still exciting every single time," Boodles' James Amos says. "We're captivated by diamonds, and search the world for the best. This isn't a mere pastime. Our curiosity has made us one of the world's experts. Every stone is unique, and cut by a master craftsman. If you're looking for the perfect blue of a natural blue diamond… or the intensity of a fancy yellow or pink diamond, at Boodles, it is all possible."
The most important things to consider when choosing a diamond are the famous Four Cs: cut, colour, clarity and carat.
"These are the barometers by which the world judges the beauty of a diamond," Amos explains. The cut is the only C that is entirely manipulated by the diamond cutter and reflects the quality of how the diamond has been crafted and shaped. Colour refers to how clear or discoloured a diamond is (rated from D to Z); the whiter the diamond, the higher its value. Clarity refers to a diamond's blemishes (or lack of, ideally) with each stone graded on a scale from FL (flawless) to I3 (imperfect); for more information, look up the GIA clarity grading scale. Carats, very simply, are what's used to measure the size of diamonds. There are 100 points in one carat. At Boodles, Amos adds, they take three other Cs just as seriously: "certification, creativity and confidence".
If you're flummoxed by the various types of diamond shape – the cut – you simply need to remember that this is the part of diamond buying that comes down to taste; no cut is 'better' or more valuable than any other. All cuts are based on three faceting styles, the DeBeers diamond authorities explain: the round brilliant, the step cut and the princess cut. "Round-edged diamond shapes (such as the pear, oval, cushion and marquise) are based on the round brilliant. Straight-edged shapes, including the emerald cut, are based on the step cut. The princess cut is a square variation of the brilliant cut." Cuts can go in and out of fashion so this is where knowledge of their current jewellery preferences is going to come in very useful. Ask to see as wide a range of options as possible and then start narrowing down from there. It also pays to do your homework, this guide by DeBeers is a helpful resource.
Where can I buy sustainable diamonds?
The De Beers 2021 Sustainability: Diamond Insight Report stated that 62 per cent of people buying natural diamonds for weddings, engagements and anniversaries rate sustainability factors as the most important in their purchasing decision. Research is power when it comes to ascertaining a brand's sustainable credentials; scour their website, call them up, visit them in person and ask lots of questions. If ever the answers feel too faltering, vague or non-committal for you to be sure, go elsewhere.
If you want to do your own research, the Natural Diamond Council's Diamond Resources Hub can help you to find information from reputable sources. "Knowing that you are wearing a rare diamond forged one to three billion years ago by an awe-inspiring force of nature is an empowering feeling. The diamond endures as the ultimate expression of love and commitment," enthuses Lisa Levinson from the NDC. Its mission: to advance the integrity of the modern diamond jewellery industry while also inspiring, educating and protecting consumers.
Don't be afraid to opt for lab-grown diamonds either. Chemically identical to their natural counterparts, they eliminate the need for mining and, while greater research is needed, may be more environmentally friendly too. Statista forecasts that, by 2030, lab-grown diamonds will represent 10 per cent of the global diamond market and they're currently particularly popular among a younger demographic of socially and ecologically conscious consumers.
What metal should an engagement ring be?
This is one of the easier questions to answer, because there aren't too many options: white gold (most popular), yellow gold (more traditional), rose gold (increasingly popular) and platinum (pure and clean-cut, with a beautiful shine) are the most obvious. Black gold is more unusual but some designers use it to create amazingly unique rings. If sustainability is at the forefront of your requirements, recycled golds are always an option too – you'll need to check each brand's website for more information.
"You may already have a particular colour in mind that is symbolic of your love," says Anne–Eva Geffroy, Design Director at Graff. "But if not, it is a good idea to look at her accessories to see which is the dominant metal. If you are still unsure, we can help you decide by showing you a range of engagement rings crafted in different metals to inspire you."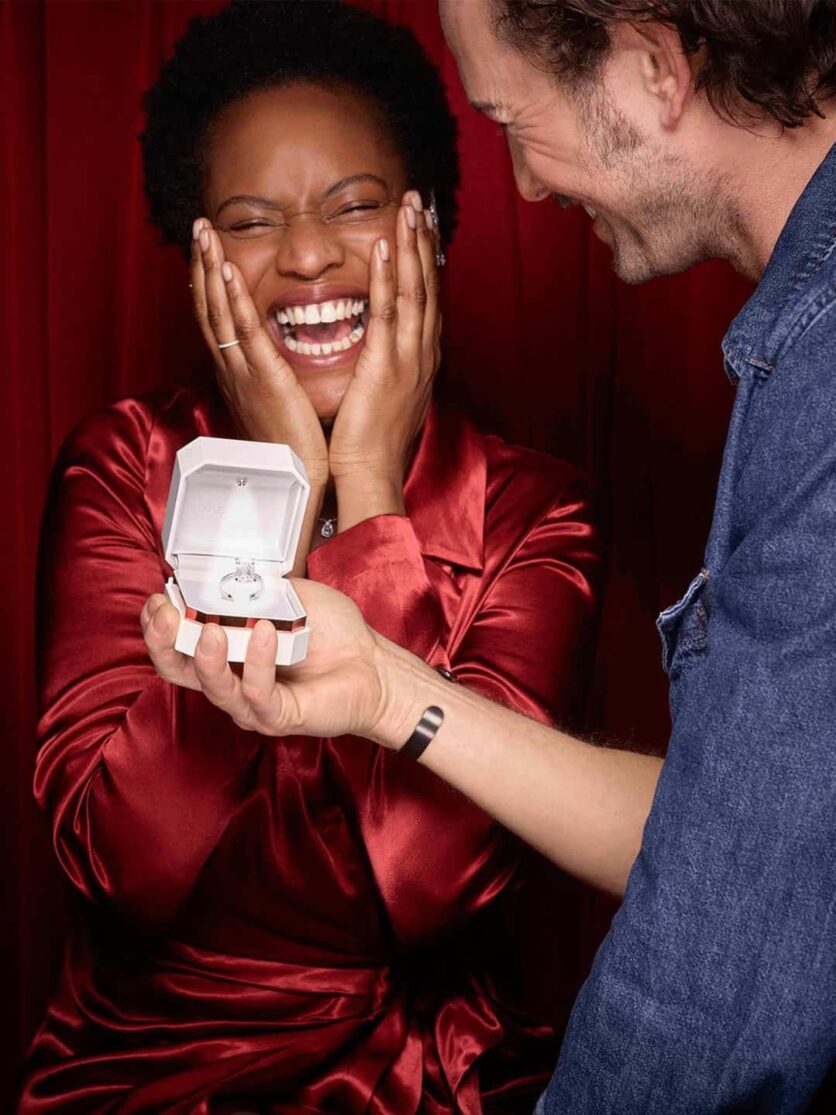 If you do have a particular metal in mind, it may pay to find a jeweller that specialises in your chosen shade. Valerie Messika, for example, opts to design her engagement ring collections in white gold. "It goes extremely well with diamonds. White gold, with its slightly mirrored refraction, pays homage to the brilliance of diamonds. The silver colour perfectly complements Messika jewellery with its lightness, transparency and shine."
How to find their, or your, ring size
If you can lure them into a boutique (or borrow a ring they wear frequently) without raising too much suspicion, almost all jewellers will be able to take a ring size. Alternatively, Chaumet has a very handy, printable ring size guide on its website: click here to download it. Print it out as an A4 sheet, check the dimensions are correct using a credit card and use an existing ring to check the size. If the inside of the ring circle lines up exactly with the outer contour of the printed circle, you've found the right size. If in between sizes, it's recommended that you opt for the bigger ring size. If you do get it wrong, don't panic: there are very few engagement ring retailers who won't offer a resizing service but, if you want to make your proposal truly perfect, it's always best to check before buying.
Alternative engagement ring stones and styles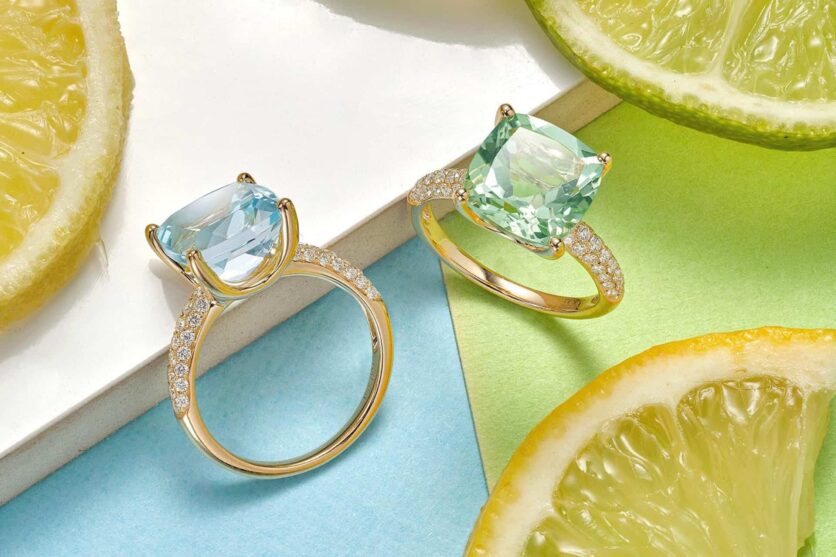 Solitaire diamonds tend to take centre stage when it comes to engagement rings but some people "seem to be tiring of that look", confirms Kiki McDonough, who has always designed jewellery that incorporates a range of beautiful coloured stones. "Green tourmaline, blue indicolite, morganite and rubellite are all wonderful alternatives. Diamonds will always be popular, but I am so pleased that people seem increasingly interested in other stones," she adds. This is a trend that has no doubt been helped on its way by the Duchess of Cambridge (who sports an exquisite sapphire and diamond engagement ring) and the likes of Eva Longoria (ruby), Halle Berry (emerald) and Gwyneth Paltrow and Princess Eugenie (both sapphire).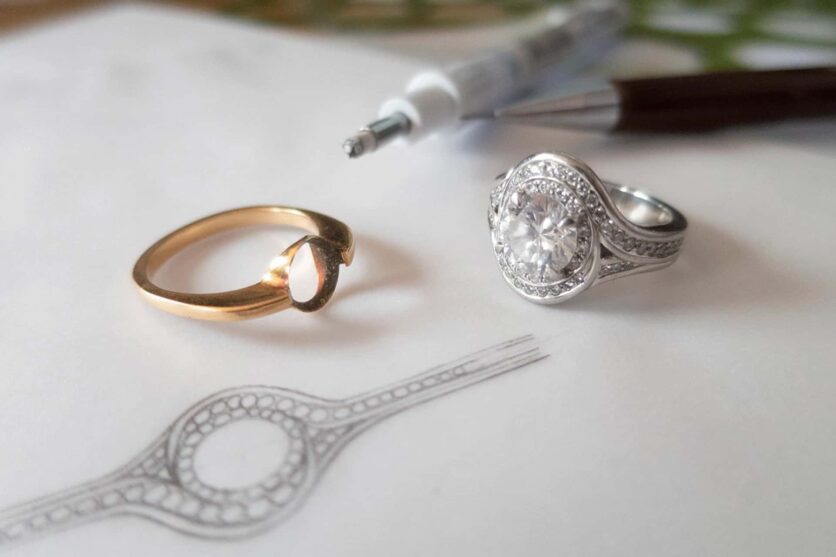 When it comes to alternative styles, turn to London-based designer Tessa Packard. "We are best known for engagement rings that are very design-led and therefore not typically bridal looking. We like to create engagement rings that feel more 'cocktail ring-like' and that really reflect the personality of the wearer.
"The rings that we are most proud of, and best represent who I am as a designer, are the ones where the client has strived for individuality and given the mount some weight. We also have a lot of clients who come to us with single solitaire diamond rings, asking for a TP makeover. Those projects are super fun."
Again, whether or not to opt for an alternative engagement ring comes down to personal style and no one knows your partner better than you do. Take a good look at their jewellery box. If it's full of chunky, colourful statement pieces chances are a dainty solitaire on a gold band isn't for them and it's time to get creative.
If they're going to wear this ring day-in, day-out for the rest of their lives it needs to be right and, for some, that may well mean opting for a unique, bespoke creation. London is full of brilliant jewellers offering just such a service and, should you choose, it can be a wonderfully memorable experience for both you and your partner to share.
Creating a bespoke ring, explains Liz Olver, Director of Product Design at Vashi, is about going the extra mile, and doing things you wouldn't normally consider, to create a ring that's one of a kind. The first step: "Our designers talk you through the possibilities and find out a bit more about you both so they can start working on ideas. It becomes really meaningful when you realise you can get involved, make decisions and add personal nuances. We're often asked to reference a favourite artist, a special holiday destination or even music. It's also important for us to understand your style so we can source the perfect gemstone."
The Vashi team then develops a selection of designs before meeting with clients again. "Your journey doesn't end when you select the final design though," Liz points out. "You can be as involved in the making as you want to be, from watching your ring come to life as a 3D model to seeing the casting process in-store. You can even join our makers at the workbench to help set your centre stone or handwrite a message to be engraved in the band. It's amazing to see it all come together."
At Jessica McCormack, it always starts with a conversation. "The part we play in a couple's journey is a small one, but what our jewellery represents is really significant – whether it's an engagement ring, wedding bands, an anniversary present – and it's our job to create pieces that convey emotion; that embody and encompass how much two people can mean to each other.
"A conversation is the best way to get an understanding of a couple's story and a true feel for what they're looking for. We'll then move on to initial sketches and start to develop the designs that way. It's special because we're all working towards that big moment. It's an important purchase for anyone and we want to be respectful of that but keep the journey enjoyable and stress-free."
How much should I spend on an engagement ring?
A loaded question, and we'd like to take the opportunity to remove all mention of the word 'should'. The idea that one should spend a month's salary, or two, or even three, is rooted in advertising campaigns of decades past. Today it's all about how much you can, or want, to spend, and there are no rules. Certain grades or cuts of diamonds may be more expensive than others, for example, so ask plenty of questions and don't be afraid to ask to see more affordable versions of a favourite style. Good luck!
Read more: Winter wedding dresses: Romantic gowns for nippy nuptials
Related Posts