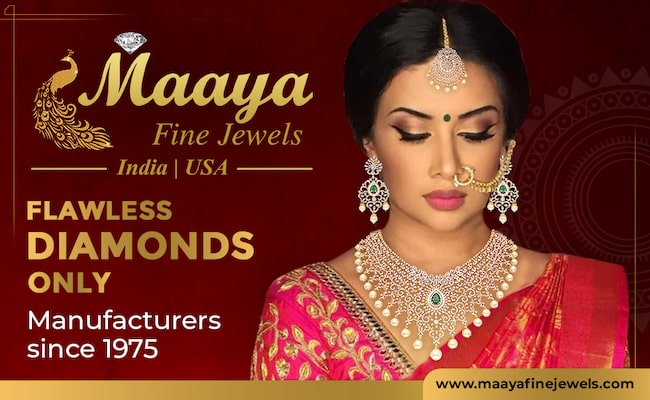 Diamond Shopping can be a very overwhelming experience for a consumer. Diamond grading is a very subjective matter, and true grading of diamonds is at the epitome of this very subject. As a consumer, it can be tricky to decide whom to trust to ensure you are getting the right quality at the right price.
Unfortunately, due to immense competition, there are a lot of cases of malpractices taking place, and certain laboratories are giving false grading of diamonds and manipulating qualities. This has been happening for few years now as mentioned in one of our earlier articles on diamond prices.
We spoke to Nihar Parikh from Maaya Fine Jewels, a Manufacturer/Retailer of diamond jewelry since 1975, to help consumers recognize the right way to buy diamonds. He quoted, "At a consumer level, many customers find it hard to differentiate genuine quality. Sometimes, an avid buyer of diamond jewelry can recognize the quality of diamonds by seeing the shine and color (whiteness), compared to weaker diamond jewelry that looks grey, brown, or appears dull.
Its also important to understand the difference between buying from a retail store vs a manufacturer. A manufacturer like us can vouch for the quality and can give guarantees on the weights and quality of the product along with genuine US lab certification.
Also, our entire team is well-trained in grading diamonds, unlike a salesperson or a manager at a retail store. The goal at Maaya is to bridge this gap between the manufacturer and the end consumer."
At Maaya Fine Jewels, they source their diamonds in the loose form from reputed DeBeers certified siteholders (companies that specialize in natural diamond mining and cutting) and set it in artistic jewelry designs under their own roof and supervision. This gives reassurance to the customer that the quality stated is the same quality received by the customer and allows the customer to be at complete ease during the purchase.
A retail store without a manufacturing unit or a pop-up show in your town will have inventory from numerous different manufacturers, so the quality across each piece of jewelry may not be consistent.
To check out the wide variety of their diamond jewelry collection visit,
www.maayafinejewels.com
www.facebook.com/maayafinejewels
www.instagram.com/maayafinejewels
For inquiries and appointments,
Contact: + 1 732-815-5160 (WhatsApp available)
Email: [email protected]
Content Produced by Indian Clicks, LLC
Related Posts